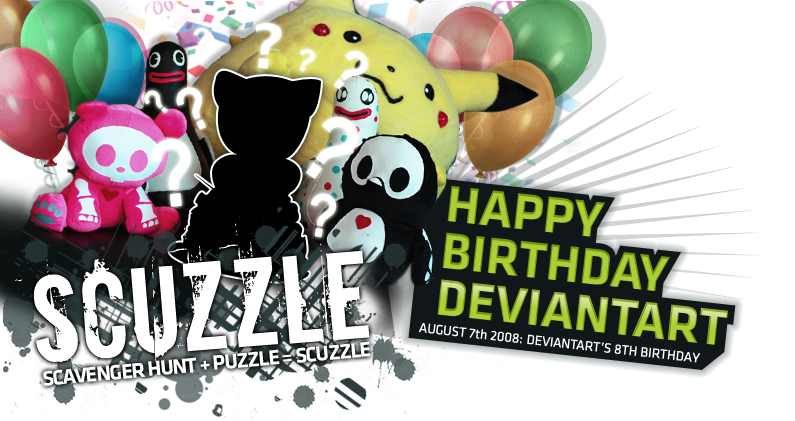 To kick off the celebrations for deviantART's 8th birthday (which is next week!), we've put together a brand new scuzzle for all you deviant sleuths to partake in. Put on your thinking caps, grab your magnifying glasses, and get ready for a good time.

Never heard of a scuzzle? It's a combination scavenger hunt and puzzle that involves both searching for clues and puzzling them together. (Information about our previously played scuzzle and its results can be found
here
and
here
.)

Crafty Creative team members have taken a photo of something awesometastic—something birthday related—and cut it up into 35 evenly-sized pieces. We then gave the pieces to staff members and hide them all around deviantART: in scraps, as deviations, on dAmn, avatars, and even one that isn't in someone's account—hmm!

Once all 35 pieces have been found, they can be arranged just like a puzzle. When you've puzzled all the scuzzle pieces in the correct order, you can use thumbnail, emoticon, or avatar codes to display the final result—our magical birthday photo!

It may be deviantART's birthday, but you're the ones eligible for prizes! Participants of our birthday scuzzle will be awarded various prizes at random. Anyone who comments on this news article will be eligible to win. Prizes include one month subscriptions, three month subscriptions, and Fella plushies.

Still confused? Here's a quick recap. A scuzzle is a combination of a scavenger hunt and puzzle. To play, search the galleries of staff members to find scuzzle pieces. Once you've found all 35 pieces, arrange them just like a puzzle. When you've arranged things correctly, post a comment about how awesome you are (you might even consider creating a journal to show off the end result). Anyone who comments is eligible to win a prize (even if you don't correctly solve the scuzzle).
Comments, questions, or suggestions should be posted below. Thank you!
Your Scuzzle Team,
$
Heidi
, $
eStunt
, and $
dan14lev