deviantART: Online Trust Alliance 2012 Award Receipient
At deviantART, we always strive to keep your user experience safe so you're provided with an environment in which you're comfortable to create and grow. As part of our ongoing effort to keep your user experience protected, we've been documenting ways to encourage awareness and ensure a safer deviantART — first in
April
and
August
of 2011, and again in
January
of this year.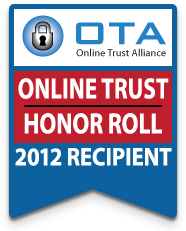 In 2011, deviantART became a member of the Online Trust Alliance (OTA), an overarching group of companies dedicated to preventing and fighting malicious activities that occur on the Web. This was one of many steps taken as a means of ensuring your safety and privacy while on deviantART, and doing so placed deviantART alongside Microsoft, PayPal, Twitter, and other leading companies working to make your Internet experience free of malicious activity.
We are pleased to announce that this year, deviantART has been nominated to the Online Trust Honor Roll. This nomination came from the analysis of deviantART's Privacy Policy, required email authentication, and several other factors. The 2012 OTA report examined over 1,200 domains and privacy policies, approximately 3,600 Web pages, and over 500 million emails. In addition, public records were analyzed for recent data breach incidents and settlements with the Federal Trade Commission (FTC). Of the companies evaluated, less than 30% qualified for an Honor Roll nomination.
We consider this an honor and are grateful toward the OTA for the recognition of our efforts. In previous years, many of the nominees were Fortune 500 companies, putting deviantART among some of the biggest and most successful businesses in the world, with regard to safety and security practices. If you would like to view the full list of 2012 Honor Roll recipients, they can be found on the OTA website.
Your protection continues to be a priority, and we will keep doing our best to ensure that your user experience on deviantART remains a safe one.