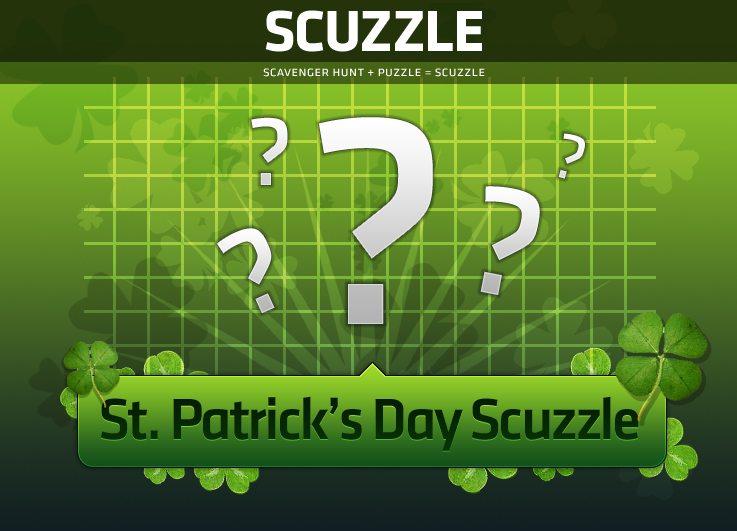 St. Patrick's Day is here and deviantART is ready to celebrate in style! Put on your favorite green shirt, grab a "Kiss me, I'm Irish!" button, and prepare to win the pot of gold (prizes!) at the end of the rainbow because we've put together a new scuzzle for deviant sleuths to partake in.
Never heard of a scuzzle? It's a combination scavenger hunt and puzzle that involves both searching for pieces and puzzling them together.
Devious deviantART staff members took a photo of something w00tacular—something St. Patrick's Day related—and cut it into 30 evenly-sized pieces. We then hid the pieces all around deviantART: as deviations, in scraps, on dAmn, as avatars, and so on. They could be anywhere! But be careful; there may or may not be bogus scuzzle pieces to throw you off the trail. Once all 30 pieces are found, they can be arranged just like a puzzle. If puzzled correctly, the w00tacular photo will be revealed to you!
Search deviantART for all 30 scuzzle pieces

Correctly arrange the scuzzle pieces (see puzzle grid)
Submit the finished product as either a deviation or puzzled together in a journal entry
Post a comment on this article linking to the successfully completed scuzzle
In your comment, include a creative caption referencing the scuzzle image (be funny, be scandalous, use l337-speak – it's up to you!)

You can enter as many times as you want

Below is a piece to start you out:
(1 winner): The first subscriber to correctly complete and submit the scuzzle, with creative caption, will be awarded an Adobe software bundle of both Photoshop CS4 and Lightroom 2 (ARV of $998).
The contest begins on March 17th, 2009 at 2:00 PM PST and ends March 22nd at 11:59 PM PST. If no winning entries are received within this time period, no prizes will be awarded. You may enter as many times as you wish.

The St. Patrick's Day Scuzzle is open to all deviantART members who are at least 13 years old for participation; however, only subscribers (both domestic and international) are eligible to win prizes. There is a charge for deviantART subscribers. deviantART staff, employees, volunteers and the immediate family members of any of those are not eligible to enter the contest.

The prizes will only be awarded to a participant with an active subscription at the time he or she posts the completed scuzzle. If non-subscribers wish to be eligible for prizes, they must upgrade their deviantART membership before their submission to the contest.

Captions will be judged on the following criteria:

Creative reference to the scuzzle image

Ability to standout among other captions

The judging team includes: $Heidi, $evafleur, $eStunt, and $dan14lev. Other deviantART staff members may be substituted as judges if necessary.

deviantART may use the name of any entrant in connection with the scuzzle.

Any attempt to cheat at the scuzzle or to appropriate completed entries from other entrants will result in disqualification.

deviantART is solely responsible for the conduct of the scuzzle. By participating you agree to be bound by these rules and by the decisions of the judges.

Winners of the caption prizes will be announced by $Heidi.
The way to more amazing photography, Adobe® Photoshop® Lightroom® 2 is a combination of intuitive digital darkroom and personal photography assistant that helps photographers easily manage, edit, and share images all from within one application.

Ideal for professional and serious amateur photographers, as well as web and graphic designers, Adobe® Photoshop® CS4 software brings you improved access to its unrivaled power through a more intuitive user experience, greater editing freedom, and significant workflow enhancements that simplify everyday tasks and deliver serious time savings.
Adobe® Photoshop® CS4 and Adobe® Photoshop® Lightroom® 2
software work together so photographers can efficiently manage thousands of images—or perfect just one.
To learn more about Photoshop CS4 and Lightroom 2
click here
. Get free 30-day trial versions by
clicking here
or buy today and get 30% off Lightroom 2 when purchased together with Photoshop CS4 or Photoshop CS4 Extended on the adobe.com store. See
here
for details, terms, and conditions.
If you're a college student in North America, you can start gaining the skills you need to express yourself and stand out—in the classroom and in your future career. Adobe Student Editions are full versions of the latest industry-standard software from Adobe, including
Adobe® Creative Suite® 4 Design Premium, Creative Suite 4 Design Standard, Creative Suite 4 Web Premium,
and
Photoshop® CS4 Extended
. With student discounts, college students can get the latest Adobe products at up to 80% off the retail prices.
Learn more
.
click here to learn more