Come meet and mingle with deviantART admins and fellow deviants on Saturday, June 9th at 2:00 PM at Mecano Bar in Paris, France. We'll be hanging out for most of the day, so stop by at anytime!

Posted on May 18, 2012
Parisian deviants! We're headed for the beautiful City of Light, and we want to see you!
Join Us!
We're back in Paris!
It's been 3 years since we've visited "La Ville-Lumière," and we're excited to make our triumphant return. On Saturday, June 9th, deviants of all ages are invited to join us for a very special deviantMEET at Mécano Bar. We'll be there for much of the day, so come by at anytime!
Mécano Bar: Paris, France
Location: 99 rue Oberkampf, 75011 Paris
Date & Time: June 9th, 2012 at 2:00 PM CEST
Admission: FREE!
What to Bring: Art supplies, ID card, and money for food/drinks!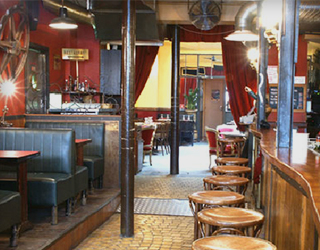 This is the entrance to the Mécano Bar. Head to the back room for extra deviousness!
Thanks to the extraordinary efforts of SaTaNiA and ZeldaDreams, who coordinate deviantMEETs in Paris monthly and have been incredibly helpful in making this happen, deviantART will be taking over much of Mécano Bar.
When you arrive, be sure to mention that you're there for the deviantMEET and you'll be given a deviantART nametag.
We'll be hanging out for much of the day, so stop by anytime after 2:00 PM to meet and mingle with deviantART staff, fellow deviants, and to simply have a great time!
The bar has free Wi-Fi, so we encourage deviants to bring laptops, iPads, sketchbooks, notepads, and cameras. This is a great opportunity to connect with old and new friends alike! This is an all ages event. Those choosing to drink alcoholic beverages will need to provide proper identification.
If you're not available right at 2:00 PM, feel free to drop in later in the day. The deviantART crew will be hanging out for hours. Plus, there's a strong possibility that deviant attendees will receive free deviantART goodies.

Update, as of May 25th!
With our deviantMEET just two weeks away, it's getting hard to contain our excitement! We've been overwhelmed by the positive response from deviants who plan to attend and can't wait to meet, greet, and celebrate with everyone.
Because attendance will be strong, we encourage deviants to arrive anytime after 2:00 PM. While our deviantMEET does kick-off at 2:00 PM, there's no pressure to arrive right away! DeviantART staff will be hanging out and available for much of the day, so feel free to arrive at the time that's best for you. This will ensure that we have a steady flow of people coming in and out of the Mecano Bar, allowing enough room for people to mingle, talk, and still have a good time.
Thank you to everyone who has told us they're attending. We'll see you throughout the day on June 9th!