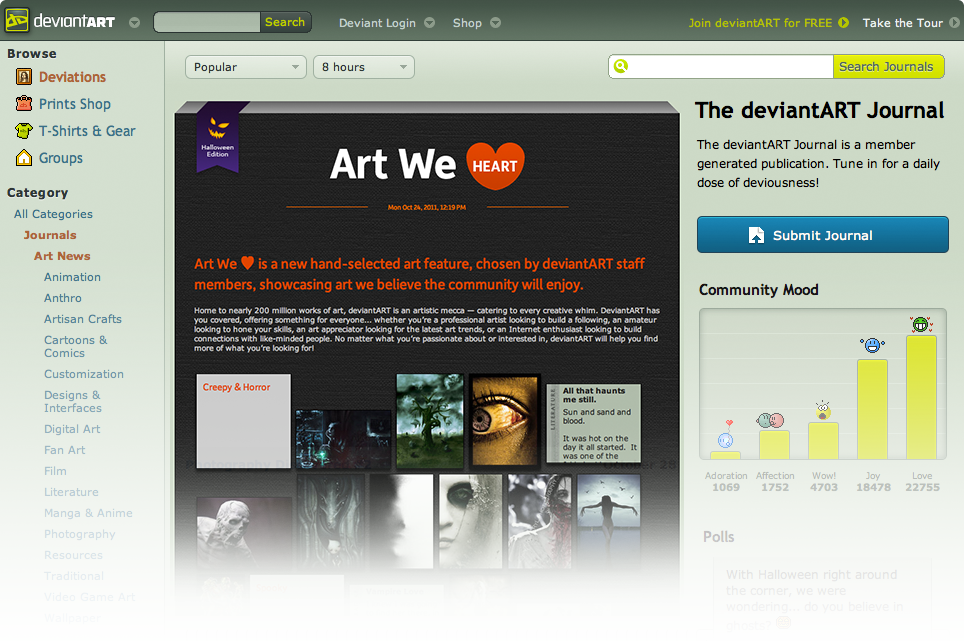 What's the
Journal Portal?
News, blogs, and journals have been merged into one, unifying these systems in order to make them simpler to use and more consistent in appearance and functionality. In bringing them together, now categorized as deviations, they're able to receive the same great benefits as all deviations on the deviantART network. Including the following:
---

Super Browse
Using the Journal Portal, you'll be able to look through an endless stream of content. Much like deviations, you may now flick through journals quickly. View Newest to find what's hot right now in the deviantART community, or view Popular to see what topics and issues are important to the masses.

+fav Journals
Show your appreciation for a well-written journal or store it away for a rainy day in your Favourites. The Favorites widget on Profile Pages can be used to spotlight and showcase your favorite journals.
---

Protect
Using Sta.sh Writer, journals can be kept hidden from from wandering eyes (aka non-deviants).

Search
Just like all deviations, journals are now searchable through deviantART's search function.
---

Statistics
Inspect a journal's performance with easy access to view number of comments, favourites, and pageviews.

Share
Promote and distribute journals by copying and pasting helpful http://fav.me links and :thumb: codes found right on the deviation page.